Regional responsibility in the global network
We are proud of our history, and above all of the achievements of our employees. For GEZE, taking on responsibility holistically means considering not only economic and ecological concerns but also our employees and society as a whole when we make decisions – on the regional level as well as in our global network.
Our employees are the key to sustainability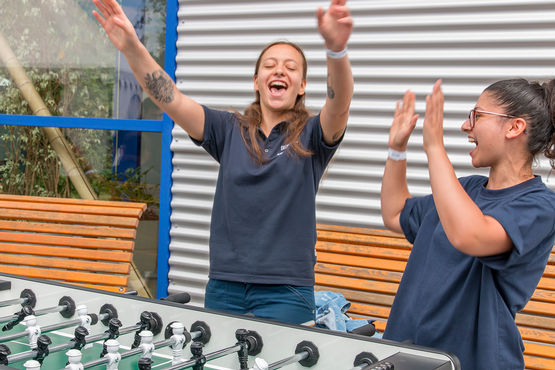 © GEZE GmbH
Our employees are the core and driving force behind our growth, behind the ongoing development of our company, and ultimately behind all of our activities and measures related to sustainability. After all, the only way we can meet the goals we have set for ourselves is with committed and responsible people.
We know that we can only achieve more sustainability within the company with committed and motivated employees. Because of this, we take their needs very seriously, and recently introduced a hybrid work time model, for instance.
Sinem Turam, Head of Human Resources at GEZE
Long-term prospects and additional company benefits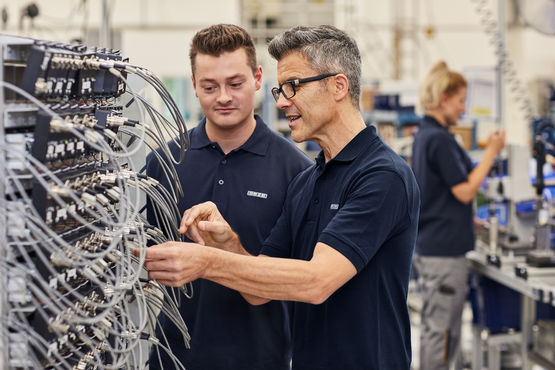 GEZE offers its employees a wide range of additional company benefits.
Our goal is to not only motivate our employees, but also open up long-term prospects for them at our company. We also offer our employees in Germany a wide range of additional company benefits, regardless of what type of position they hold. These include, for instance, a company pension scheme, capital-forming benefits, mobility supplements, or a comprehensive corporate benefits catalogue that includes, for example, employee apartments for employees who need to move to a certain area and an extensive range of health and sports services.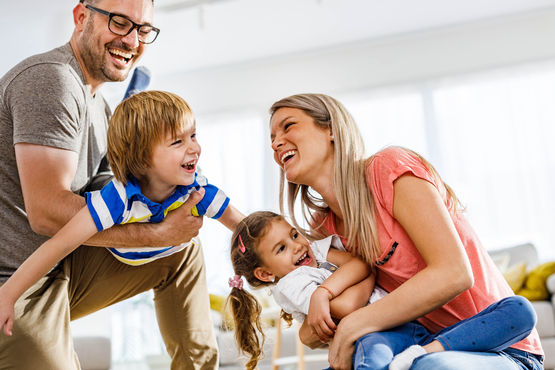 Families receive free services such as childcare, caring for family members and life coaching © skynesher / Getty Images
Work life balance
Work life balance is a key focus of the additional benefits: We have been working with the PME Familienservice Stuttgart for many years, and offer our employees free services across Germany such as childcare, caring for family members and life coaching. In addition, a wide range of continued training opportunities and seminars are available through PME. We expanded our mobile work model during school holidays for our employees in Germany to other European countries. By doing so, we support our employees and help ensure they have childcare.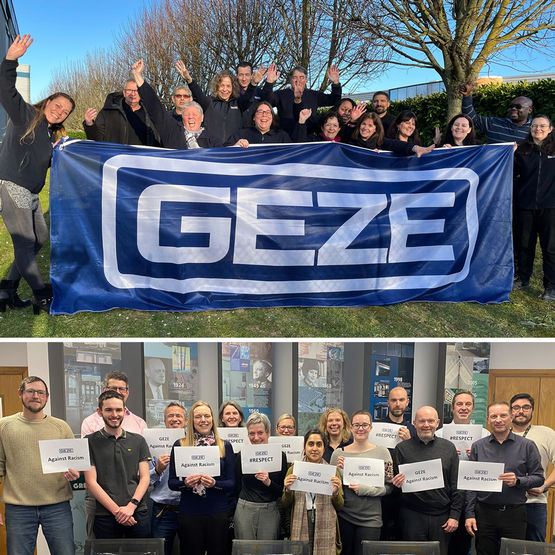 GEZE employees are taking a clear stand against racism, both in Germany and internationally
Ideal conditions for young professionals
We are particularly proud of our continued training and education services, which regularly win awards from the independent market research institute Trendence. Our apprentices and students enjoy diverse educational plans with excellent practical applicability and exciting projects. During their apprenticeship period, our trainers and training mentors help foster core areas and professional expertise among our young talents, as well as their own individual skills. Thanks to close communication with international GEZE subsidiaries, global opportunities are also a fixed part of the programme. Last but not least, our hiring rate has been above average for many years.
Facilitating lifelong learning
Our diverse range of training and educational programmes makes lifelong learning possible, both online and in person. From trainees to apprentices, specialists or managers – our services, tailored to specific target groups, help our employees improve their professional competence, methodological expertise and social skills. We continuously adapt our concepts to the requirements of the new working world.
Diversity and action against racism
Recognising, promoting and appreciating the diversity of our workforce as a factor in our success – that is the basic idea behind GEZE Diversity Management. We ensure our employees enjoy equal treatment and the freedom to develop their skills. After all, at GEZE everyone should be able to reach their full potential. Our managers serve as role models. We advance the issue of diversity on an international stage through our recruiting guidelines for managers. In addition, we are part of the #hrRespect initiative, which sensitises HR professionals to the issues of racism and right-wing extremism.
Occupational safety and health protection
Our occupational safety and health protection concepts not only remove health hazards in the workplace, but also actively promote the health of our employees. We are pursuing these goals on both the national and international levels through a comprehensive programme. To advance these activities in an even more targeted way, GEZE created the position of Environmental, Health & Safety Coordinator in Germany. Our EHS Coordinator serves as the contact person for occupational safety authorities and certifying agencies, supports the board of management in operating the occupational safety organisation, is responsible for further development and coordinates all officers in the occupational safety, health and environmental protection area.
To actively promote a healthy work environment, GEZE offers company health management with health days, health checks and ergonomic instruction at the workplace. Health and sports services are also included in our catalogue of additional company benefits. We carry out employee surveys to address the needs and requirements of our employees in a targeted manner.
Social Commitment
As a family business, we know where we come from and we take on social responsibility – both regionally and globally. From supporting social projects to funding education, we always look beyond our own horizons and support people in need of assistance. We are working to support refugees in Germany, for instance, alongside the Hoffnungsträger Stiftung für die Integration (Foundation for Integration). Together, we have built "Hoffnungshäuser" (hope houses) for refugees, which offer an integrated living model.
Globally, we actively collaborate with the children's aid organisation 'Plan International' to improve living conditions for children, young people and their families. To mark our 150th anniversary, we sponsored 150 children in need from all around the world and will now sponsor another child every year.
Learn more about our social commitment