Sustainability along the product life cycle
GEZE has always been focused on the long term. As a family business, we have concentrated on long-term concepts instead of short-term profits since our founding in 1863. Sustainability influences our everyday actions along the entire supply chain – from purchasing our raw materials to recycling and waste management.
Sustainability as a cross-sector responsibility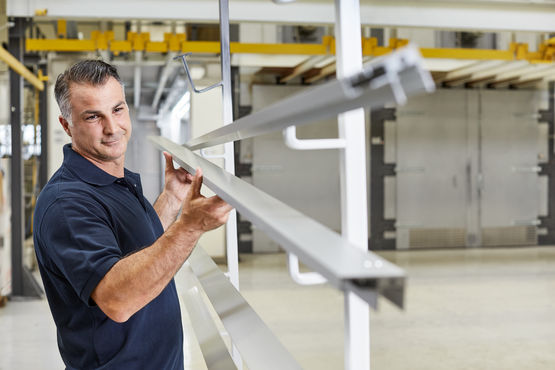 Sustainability is a key responsibility at GEZE and is permanently integrated into all product-related areas. © Karin Fiedler / GEZE GmbH
Our understanding of sustainability is holistic. Because of this, there is no central responsible individual for the issue in the product life cycle – instead, sustainable thinking and action is permanently integrated into all product-related areas. These include, in particular, research and development, purchasing, and quality management. However, sustainability is also a key responsibility for other departments such as product management, facility management or logistics. The "Sustainability Roundtable" meets at regular intervals so that the company can benefit even on an international level from local experiences in the area of sustainability.
Product service life
Durability is the key to sustainability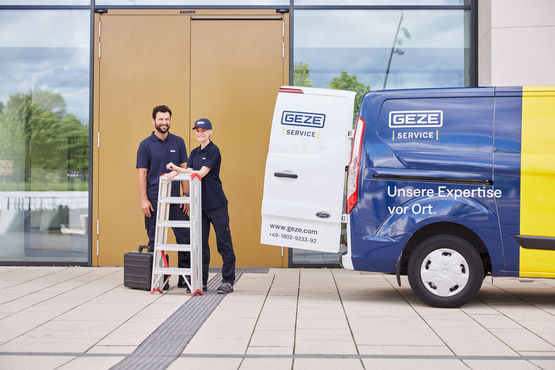 With over 270 employees, GEZE Service helps ensure long-lasting functional products throughout Germany. © Karin Fiedler / GEZE GmbH
As a leading manufacturer of door, window and safety technology, we offer particularly durable solutions thanks to certified product quality. Our primary production site in Leonberg, for instance, has been certified in accordance with DIN EN ISO 14001 since 2012, and in accordance with DIN EN ISO 50001 since 2016. Our quality management system in Leonberg has also been certified pursuant to DIN EN ISO 9001 for many years.
GEZE Service offers innovative service concepts, so that our customers can take full advantage of our products' service lives. GEZE Service ensures GEZE products are installed correctly, maintained subsequently, and tested on an ongoing basis. Our services include installation, maintenance, repair, retrofitting, refurbishment, and spare part management for all products – even outside of the GEZE product portfolio.
Regulatory compliance
Sustainability and environmental product declaration regulations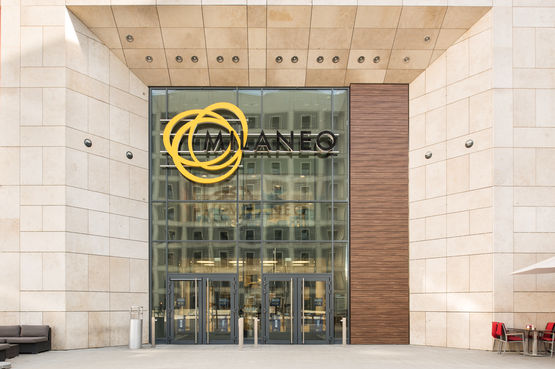 The modern shopping mall with GEZE door and safety technology has been awarded the Gold certificate by the German Sustainable Building Council. © Jürgen Pollak / GEZE GmbH
We always observe and document all sustainability regulations in conjunction with our product portfolio. These include, for instance, regularly reviewing our compliance with key environmental directives like REACH (Registration, Evaluation, Authorisation and Restriction of Chemicals), RoHS (use of certain hazardous materials in electrical and electronic devices), PoP (Persistent organic pollutants) or WEEE (Environmentally responsible disposal of used electrical and electronic devices). If new requirements are enacted, we implement these promptly.
Environmental product declarations (EPDs) also contain precise, verifiable environmental information for products and their applications. Our TS 4000 and TS 5000 door closer systems, for instance, have an environmental product declaration. In general, EPDs serve as the basis for building sustainability assessments, which are recorded in the BREEAM and LEED international assessment systems of the German Sustainable Building Council (DGNB). The certificates support our customers in achieving goals like obtaining green building certifications.
Supply chain
Material and resource management
Our planet's resources are finite. Because of this, we are committed to responsible, resource-saving business practices in the development and manufacturing of our products along the entire supply chain. Even when acquiring materials, we consistently review and consider ecological and social dimensions. For example, we purchase approx. 85% of our raw materials from Europe. Since we also produce the majority of our products in Europe, this approach ensures transportation routes are kept short. We also either deliver all of the waste we produce to recycling systems, or dispose of it according to valid local regulations. Furthermore, with our "Avoid-Recycle-Remove" strategy, we are working to continuously reduce the amount of waste we produce and increase our recycling rate. Our products can also be recycled easily at the end of their service lives thanks to the high proportion of metal used to produce them.
Long-term cooperations
Supplier management
GEZE works to form long-term supplier relationships built around our values. We cooperate in many different ways with around 1,500 suppliers to purchase raw materials, components, and services we need for our final products. Through our supplier management, we build and maintain long-term partnerships in which every member accepts their corporate responsibility and acts in accordance with human rights due diligence obligations and environmental and climate targets.
We evaluate our suppliers through a comprehensive risk analysis, both when awarding projects to existing suppliers and when initiating new relationships. These evaluations include not only economic criteria, but also issues like country-related risks, environmental factors, compliance risks and certifications. Official data from the OECD and Transparency International is integrated into these evaluations.
We understand a "reliable supply chain" as doing more than just ensuring on-time deliveries. Being a GEZE supplier means recognising your part in and contributing to our responsibility for sustainable business practices.
Michael Seubert, Head of Global Procurement at GEZE